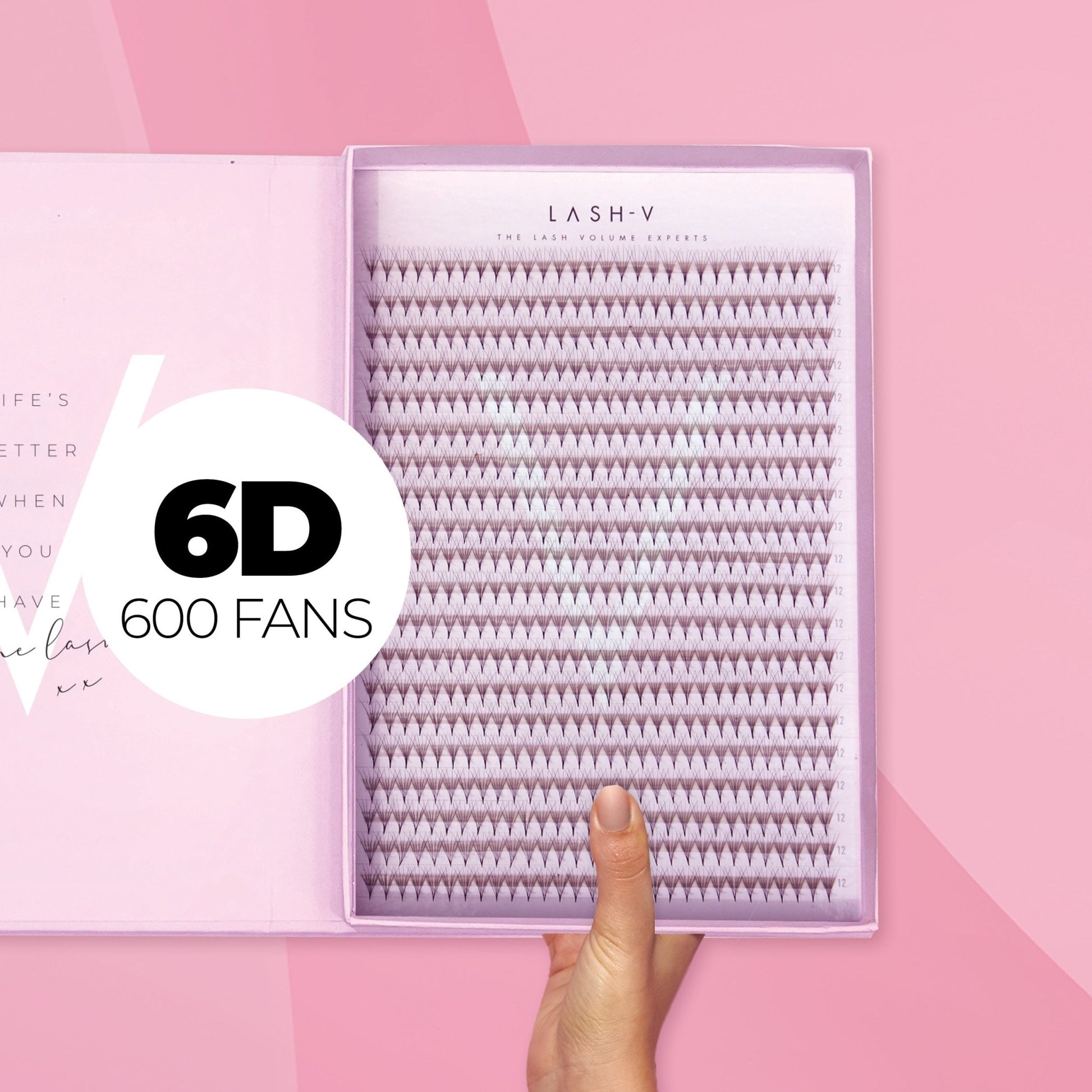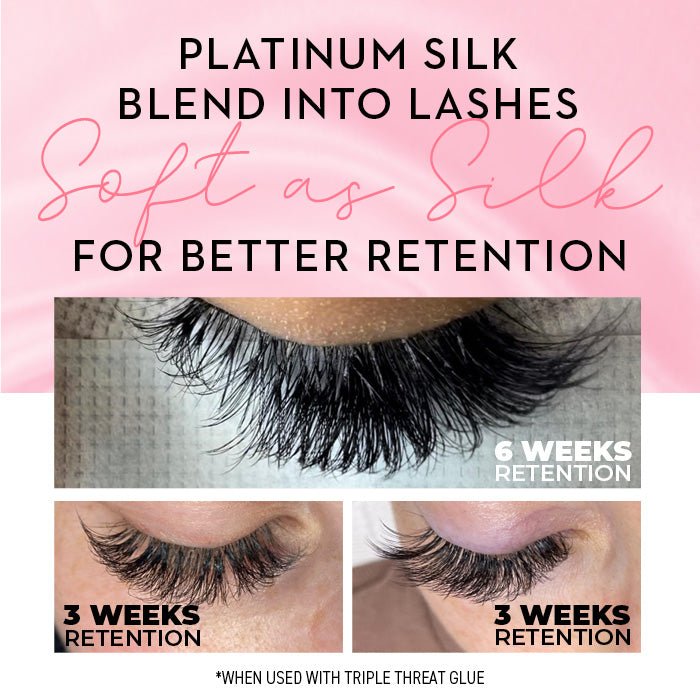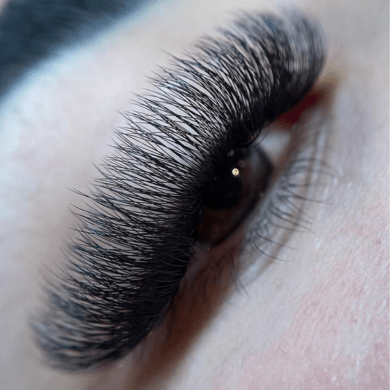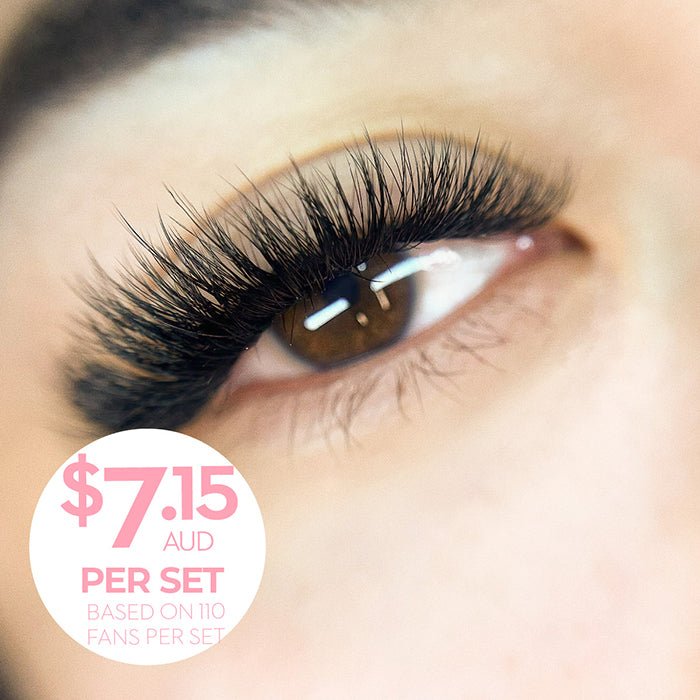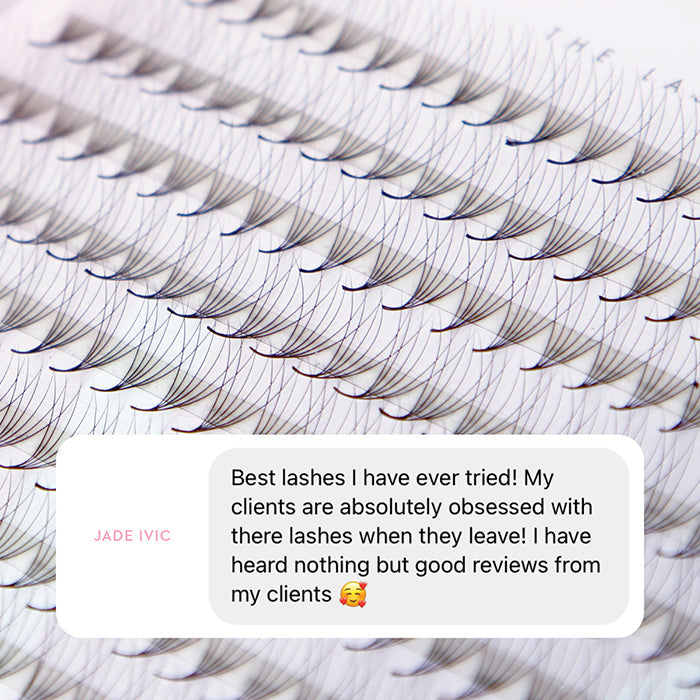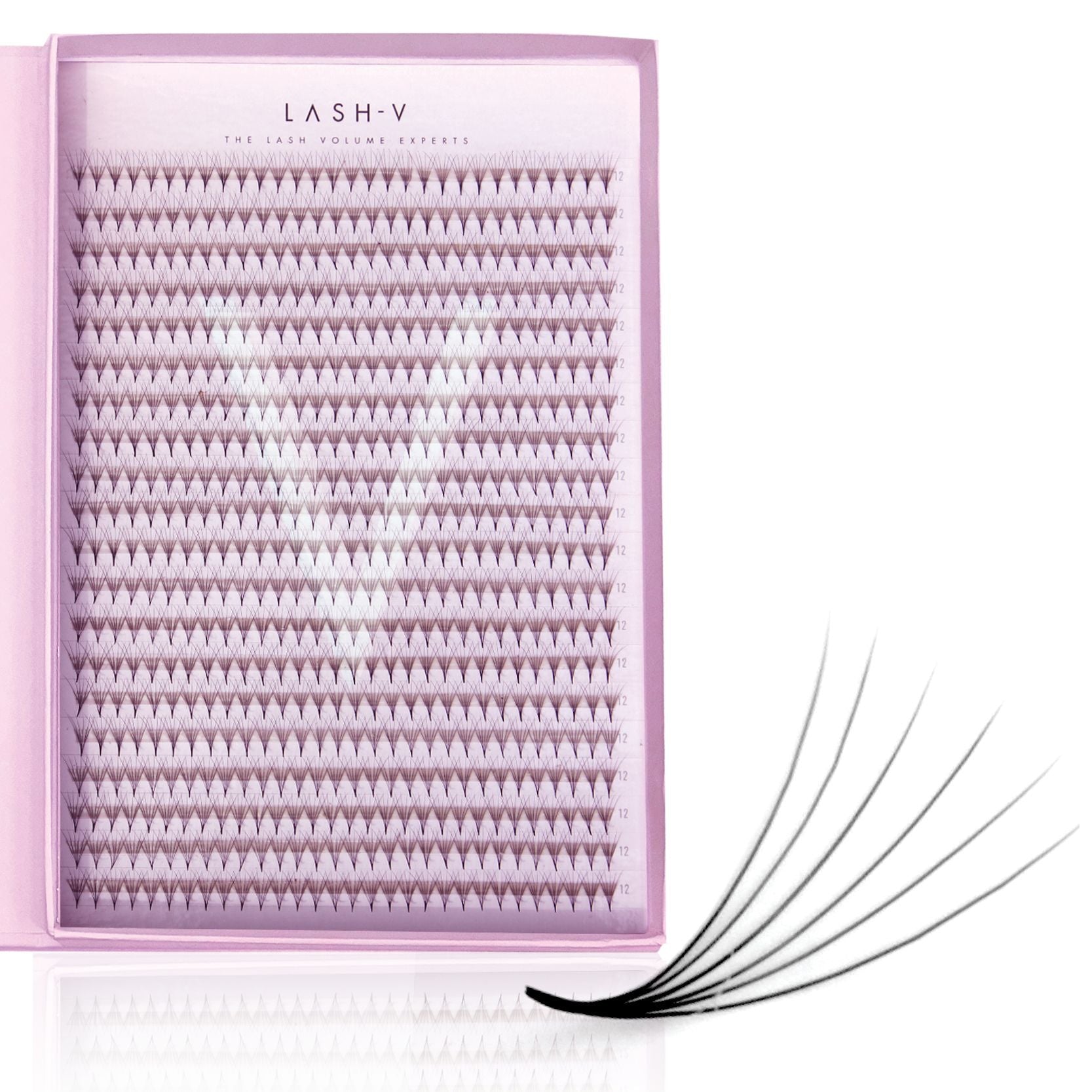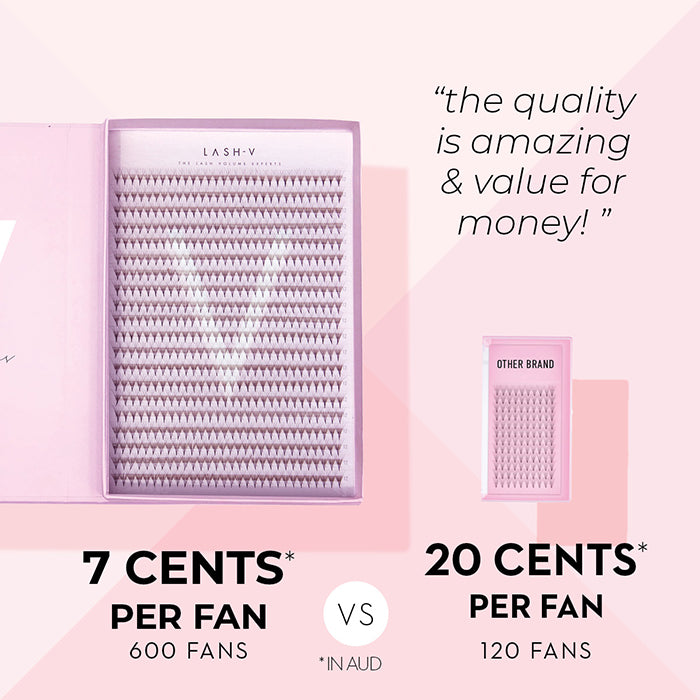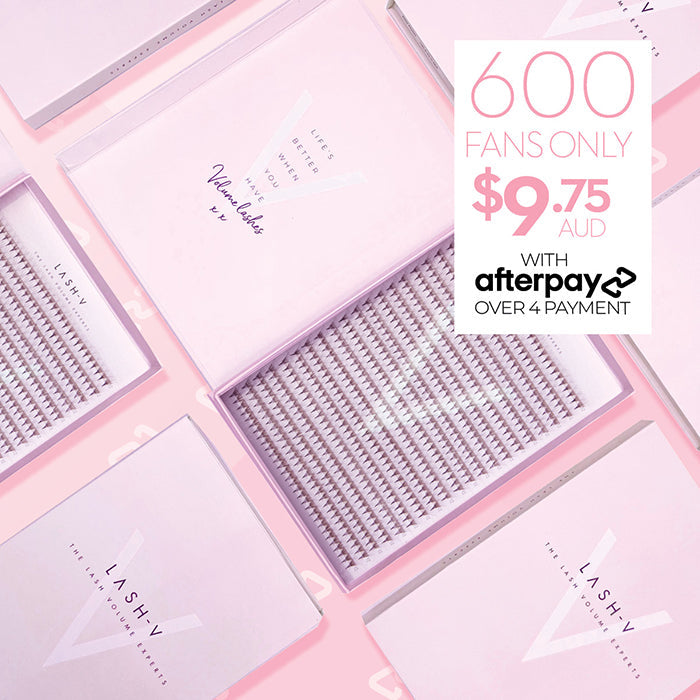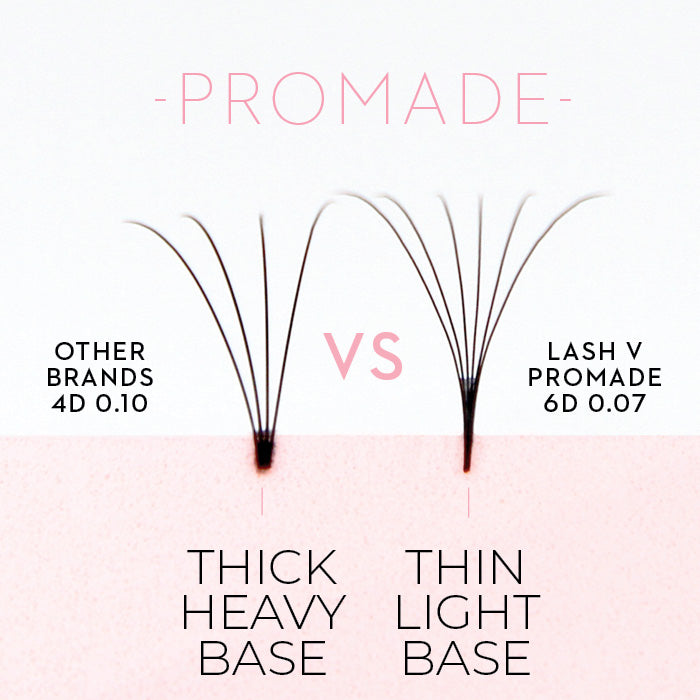 6D Promade Xxl Tray - 600 Fans
Sale price
$39.00
Regular price
Tax included.
Buy now, pay later.
Product description
Product reviews
Get ready for consistent high-quality lash supplies every set!
If you're looking for consistent quality lash fans but also need great value prices, then look no further and lash with the newest generation of premade fans, Lash V promade 20 lines xxl tray! The latest in premade lash fans technology, we've created the ultimate promade fan offering a wider fan (like Short Stem Pro fan) for stunning lash coverage, but with ultra-thin bases for super easy application on your clients! So, get ready to lash more clients faster!
All our Lash V premade lash fans are handmade just like individual lash fans. Our premade volume eyelash extensions are made with PBT material and have platinum silk blended throughout showcasing the highest quality. So, the softness of Lash V promade (premade fans) will leave your customers coming back for more! So, it's time to see why over 19,000 lash artists use Lash V as their trusted lash extensions supplier!
Ever needed to lash now and pay later? Now you can. All our premade volume fans offer Afterpay. If you love our loose pro made fans, try our bigger value box to help cut down on prep time. Meaning you can peel, place and lash faster and better than you've ever lashed before. So, if you want the only lash extensions supplier who offers next level quality and value; welcome to Lash V.
Five star reviews 
"I just can't stop buying lashes from Lash V. Every tray I get are perfect. The Lash V team take extra pride in all there lashes and only produce nothing but the best 🥰 I'd definitely recommend buying lashes from LashV. I couldn't go anywhere else. Perfect fans every time. And super easy to apply and are amazingly soft and fluffy 😍 So much love ❤️"
JRose - Verified Lash Artist

Let's talk quality!
600 premade volume fans placed on our a xxl designer box offering 4x more premade lash fans to most competitors small trays.
Platinum silk blended into highest quality PBT material for a premium silky lash fan finish.
100% hand crafted just like you make it yourself.
6D fan base same thickness of a single lash. Making it the lightest lash on the market.
Easy to remove from the strip – no lash breakage or falling apart
Heat bonded technique with minimal glue to ensure the lashes are fused together.
Foil backing ensuring each line peels off easily and reusable up to 10X.
Let's talk speed!
These promade fans will help create a mega volume set at the same time as a classic set!
Our xxl box full of ready to go strips makes prep time faster compared to loose fans.
Or remove them straight from the box to lash even faster!
Why your clients will love these promade lash fans
Super even lash coverage with wide fan short stem look with promade super thin base.
Ideal for clients with almost no lashes. Quickly creates full volume.
Super lightweight and extra durable for up to 6 weeks retention
100% cruelty free
About our xxl trays
As each fan is hand crafted, you might find that some fans appear different to other fans. That's a natural occurrence when you make each one by hand. So enjoy subtle differences! They will make your set look more natural!
Please expect 5-10 fan bases separating. As the bond may separate due to travel and weather conditions.
Need your lash supplies express? We got you babe.
Free express shipping available $200+ for all our eyelash extension supplies.
Afterpay available on all eyelash extension supplies.
All premade volume eyelash extensions wholesale products are GST incl
Follow us on Instagram to see our beautiful work @lashvbyk.m or #lashvbyk.m
 Five star reviews
"Lovely, thin bases! Really love the promade Fans. I have no problem getting a bond to the NL, client retention seems to have improved, less stickies due to how thin the bases are and seem to also be applying faster which has been a amazing as I work back to back with clients. Highly recommend!!"
• Rachael Offer - Verified Lash Artist
Great service, quick delivery and beautiful lashes highly recommend!
Ah thank you so much for such a kind review. You are such a sweetie! We are so happy you love our products as much as we do. Again, thanks so much for your support and being such an amazing passionate artist. It's always a pleasure to work with you. Reach out if you have any other questions. We're always here to chat and help any time!
Much love,
Nicole x
PERFECTTTT
Honestly is such a time saver. Having all the lashes ready to pick up and put down is honestly so convenient !! The lashes are super fluffy too
Fantastic Feedback
I've only been lashes for just over a month I have had fantastic feedback about these lashes and my client are loving the 6D look. Think this will be a my client favourite list for sure 🤩🥰.
Great quality will def order again!