Lash V Blogs
9 things to help your lash business during a lockdown
by Admin Lash V on Jun 07, 2021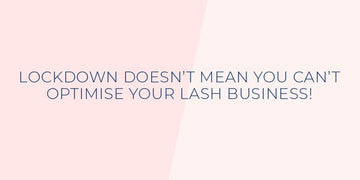 We know Victorian lash artists who are stuck at home must be really hurting by these current lockdowns, but being stuck at home shouldn't mean your lash business is on complete hold! Oh no! There are lots of things you can do while you aren't lashing that can help your lash business grow in the long term. 
So we've listed our top 9 things to do while you're stuck indoors and can't lash. These aren't about chasing new clients, these are all great things you can do to retain your current clients. Because first thing you need to do after lockdown, is lockdown your existing clients and don't lose any of them! So, now that you're not fully booked out, it's a great time to take a step back and look at your lash business, and not just your lashing. Based off chats with many lash businesses, (especially ones that are new to the business) here are our top ten things to do to increase your client retention:
 
1. Automate your customer reminders
So many businesses we speak to don't have automated client reminders set up. You just lashed your client, so you know when they are due to come in next. So make sure you have an email system that can send them a reminder that they might be due for their next lash session. An easy way to stay topical with your clients and show you care.
So two main ones you can send out based on time.
A. Lash reminder based on when they are due for their next set.
B. A Win-back email to anyone who has not booked with you over a period of time. It's worth adding maybe a small discount/offering to bring them back.
Also consider text message systems that can easily send out reminders to keep your existing clients coming back.
 
 
2. Instagram post scheduling
Time to get ahead on your posts and schedule all your posts in advance. So when you're back fully booked it's one less thing you have to worry about.
If you're not scheduling your posts, it's certainly something to consider. There are plenty of free scheduling programs out there to help you.
Also consider making some engaging fun Instagram Reels your clients might find funny. Or even post about how excited you are to return. It's a great easy way to get engagement and exposure and get clients excited to come back. Make enough for the month ahead (or even two), schedule them, then you are set to get back to focusing on lashing!
 
 
3. Just keep lashing. Just keep lashing.
In the words of that sweet little fish Dory, just keep lashing. Lash anything and everything you can find. Just keep those skills up. If you don't use it, you'll lose it. So keep the hands active. As you will soon be booked out on a 12 hour day making up for lockdown, so the more you keep sharp and lashing, the better you will be when you return.
 
 
4. Revisit your website
When you're busy lashing, things like updating your website can drop off the radar. So now's a great time to pull out those stunning lash shots you did and add them to your website. Or maybe rewrite your About us page. Or come up with some new headlines about your offering. Could you add some new customer reviews to it too? Anything that will attract new customers to your services will help!
 
 
5. Do a competitor review
It never hurts to take a look at the competition around the corner. See who is nearby who might be geographically stealing clients. Some things to consider:
A. Check their quality.
B. Check their pricing.
C. Check their reviews.
D. Check what they offer above and beyond lashing.
 
 
6. Do a survey of your business offering
This one can be a little scary. But creating a quick little 5 question survey on Survey Monkey to your existing customers may uncover some hard truths you might need to hear. Hopefully it's all roses, rainbows, unicorns & good news. But if there is something you're doing or not offering that they don't like and stopping them coming back, now's the time to uncover that and do something about it. No one likes surveys, but they are a fantastic way to get real feedback from your customers.

 
7. Relook at your offering
Now that you've done a competitor review and a survey, it's worth taking time to look at your offering. Be honest and ask the hard questions. If your quality and pricing is the same as down the road, then what else can you add that has your clients wanting to share it with their friends? These little things can be the difference between holding and losing a client.
Think about your music / your salon look and feel / the extra items you offer your clients (even a coffee goes a long way) / better candles to create a relaxing atmosphere. What could it be? All these little things add up to a better experience. So time to review what makes your salon better than your competitors.
 
 
8. Check your website's SEO Google ranking.
So many lash artists neglect this as they hate tech and don't even know what SEO means. Well it's super important! Once you've done a competitor review in your area, you might want to check how your website is ranked on Google. Because if you're a client looking for a new lash artist, you want to make you're your salon name is coming up on the first page!!
9. Learn something new
There are so many amazing lash artist tutorials online. So there is no reason you can't push yourself and learn something new. It might be a new style to expand your client offering. Or even some tips on how to lash faster so you can service more customers. We should always be adding some new tricks to our service. 
So these 9 items will surely keep you busy during this lockdown. So time to turn off Netflix, and sharpen your business offering. So when we open again, you're ahead of the game and hit the ground running. Hopefully you might even pinch some new clients who now love your new offering!
We hope you found this helpful! If you have any questions about any of the above. Feel free to reach out. We'd love to chat and help you. 
Big love from all of us during this lockdown!
Stay safe!
The Lash V team.
xx