Lash V Blogs
Lashes not sticking? Relax. It's not you, it could be your glue!
by Admin Lash V on May 14, 2021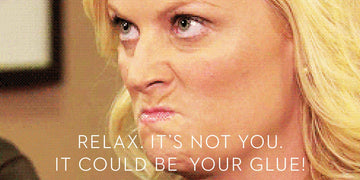 4 WAYS TO MAKE SURE YOUR GLUE IS STICKING & GIVE LONGER RETENTION.
So you're half way through your client's lash set, and your lashes stop sticking! You want to scream "WTF!!!" but you can't in front of your client. We get it babe, when you're in the middle of a set, there is nothing worse! You start to think, is it me? Panic mode sets in. But REMEMBER babe, you're a Lash Boss with amazing talent and amazing lash fans. Don't worry, you're not alone. We get so many calls from concerned lash artists who think it's them or their lashes. But it's not! It's their glue! Yep that cheeky little bottle that's been sitting there is ruining your lash set! So let's dive in to 4 simple ways you can turn your glue into something that ruins your sets, into your best friend that increases your client's retention!
IF YOUR FANS AREN'T STICKING, THEN HERE ARE 4 THINGS YOU NEED TO CONSIDER:

1.Check your humidity & temperature:
This one's mainly for our QLD lash artists, but an important point to remember for lash artists everywhere.
Always consider the temperature and humidity of the environment you're lashing clients in. As if it's not ideal for your glue, it will spoil the glue and your lash set.
Make sure your room is kept in the ideal temperature of 25°C-28°C (77-82°F), with a humidity of 30%-70%, again ideally 55% is perfect. If it is outside of this temperature range, it will most likely start to oxidise.  
2.Where is it stored?:
If your glue isn't stored in the correct environment mentioned above, or if the lid isn't secured tight enough, oxygen can get to the glue, and it creates oxidisation.
Like all beauty products both solid and liquid, everything has an expiration date, remember to check the back of your glue bottles, and read all the instructions prior to use. 
Ensure your lid is on TIGHT! 
Make sure you are storing it upright.
If your salon's natural environment is above the recommended humidity or temperature, we'd recommend looking into a beauty fridge! It's a great investment and shows your clients that you care and take their lashes seriously!
3.How long has it been opened?:
When your busy lashing away with clients, typically a glue bottle shouldn't last too long! We get that some months can be slower than others and recommend not keeping ANY glue for longer than 28-30 days. 
We recommend putting a sticker on the bottle so you know when it was opened.
Once opened and used, ensure you are wiping it after each use to keep the nozzle clean.
Ensure while it's open - no air bubbles can get into the nozzle -this will keep the oxidisation of the bottle to the minimum, keeping it fresh for as long as its expiration date. 
Shake it, shake it like a polaroid picture!
All you Beyonce's and Lucy Liu's...remember to always shake your glue, for at least 30 seconds. This helps loosen the product and allow it for even distribution. 
NEVER shake the glue with the lid on. 
Take the lid off and place a glue nozzle wipe over the glue and shake shake shake!
The wipe will catch any excess glue and will keep your nozzle clean.
Make sure you wipe down the nozzle after every use. 
We know these 4 tips can take a bit of extra effort to adjust and do, but it's a huge investment. If you do all these, you will have better sticking lashes, happier clients and longer retention!
IF YOU TRUST YOUR GLUE, WE HOPE THESE TIPS WORKED FOR YOU. BUT IF YOU ARE NOT 100% SATISFIED, IT MIGHT BE WORTH WHILE EXPLORING OUR MAXIMA HOLD GLUE. 
We had so many complaints that other glues were not sticking with our lash fans, so we decided to create the best glue perfectly suited to our fans. Our Maxima Hold Glue is made with the latest German technology, creating not only the first ever formula specifically designed for premade fans, but is one of the quickest drying times on the market with an incredible 0.5-1 second dry time.

The faster the dry time, the quicker you can service more clients, and the more clients you service, the quicker your business will expand.
Not only that, our Maxima Hold Glue also has the most amazing retention, up to 6-7 weeks which will ensure that our clients love you, and their lashes. 
We always talk about lash health here at Lash V and being that it is SO important to both you and your clients, having a longer retention time (bearing in mind of course your clients natural lash cycle) means less breakage/fall out, ensuring they will return to you time & time again for an infill.  
Need more convincing? Head to our reviews page & see why 1000's of Lash Artists have switched to our Maxima Hold Glue. 
So we hope this helps you find a glue that can help take your business to the next level. Because if the lashes aren't sticking, don't worry! It's not you, it's your glue!
If you have any questions, please give us a call. We're always here to get you lashing next level!

Love Jasmine.
- - - - - - - - - - - - - 
LASH V LASH EXPERT